Come and Worship With Us!
Church Updates
Live Worship @ 9am & 10:30 a.m. (50% capacity!! – Speaker in atrium for overflow)
Livestream Worship @ 9 a.m. Wrapped Communion wafers and juice are available for pickup in the church office for our online worshippers.
HCA Education Pre-Kindergarten – Senior High
Lent Services – February 17-March 31
Adult, Children & Youth Bible Studies – Wednesdays 6:30 p.m.
Adult Class Study on the book of Romans
Sunday School and Confirmation Class – Sundays 9:00 a.m.
Adult Sunday School Class – "Death and Resurrection of the Messiah" by Ray Vander Laan.
We look forward to Worship on Sunday!
Here are a few details about how we will operate from week to week.
Service will be 55 minutes.
We have hymnals and bulletins available for anyone who would like to pick one up.
Offering plates will not be passed out during service, but will be in the atrium.
A hand sanitizing station will be set up in the entry.
Nursery during the Worship services
Coffee fellowship in between services
Seating will be every other row in the sanctuary. Families are encouraged to sit together in groups 6 feet apart from other families.
Please wear a Mask.
If you are feeling sick please stay home.
Practice social distancing.
It is good to worship together again. We need one another. I look forward to seeing you!
In His Grace,
Pastor Peter Franz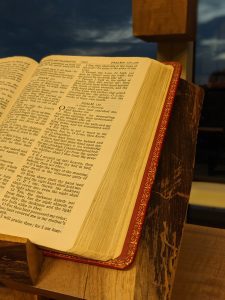 About Grace Free Lutheran Church
At Grace Free Lutheran Church, we worship the Triune God, Father, Son, and Holy Spirit. We believe that the Bible is the inspired and inerrant Word of God, through which God continues to speak to his people. We believe salvation is found in Jesus Christ alone.
We are a vibrant community of believers dedicated to Biblical truth and living it out in our lives. We are also members of the Association of Free Lutheran Churches (AFLC).
We proclaim [Him], warning everyone and teaching everyone with all wisdom, that we may present everyone mature in Christ. For this I toil, struggling with all his energy that he powerfully works within me.
Colossians 1:28-29
Our Ministries
Our mission of the church is to proclaim Jesus that all may follow Him. We live this out through the various ministry in-reaches of the church to the men, women, children, youth, and also out-reaching through home and world missions.
Sign up for our newsletter today.
We send out a monthly newsletter with a message from the Pastor, events, and opportunities for service to the church.