Come and Worship With Us!
What We Believe
* The Bible is God's Word and is true (inerrant) in all its parts.
* God has shown His great love for all people by sending His Son, Jesus Christ, to provide eternal life.
* We are sinners, in need of forgiveness which Christ provided when He died on the cross as our Savior and Lord.
* Faith is a gift of God, created and nourished by the Holy Spirit through the Word of God.
* We can know now that our sins are forgiven because salvation is God's grace in Christ alone.
* Every Christian is called by God to a life of faithful obedience and service to Him.
* In gratitude for God's grace in Christ, we desire to worship and to serve the Lord, seeking to be of help to our neighbors.
Worship Services @ 9am & 10:30 a.m.
Livestream Worship @ 9 a.m.
Adult, Children & Youth Bible Studies – Wednesdays @ 6:30 p.m.
Men and Women's Bible Studies
Usher Meeting: June 11, 10:05 a.m.
Small Groups – Learn More
Men's Fellowship – "Rising and Walking" Saturday mornings 7:00 a.m.
Special Congregational Meeting – Sunday, June 4, following the 2nd service. Purpose of the meeting is to elect a call committee and CEC Board Members. Submit nominations to the church office.
Grace FLC VBS: June 12-16, 9:00 – 12 noon
T
Worship Services
Grace is a member of the Association of Free Lutheran Congregations. We believe the Bible is God's Word, inspired and inerrant, and that it has the answers for life. We believe salvation is found in Jesus Christ alone.
"And let us consider how to stir up one another to love and good works, not neglecting to meet together, as is the habit of some, but encouraging one another, and all the more as you see the Day drawing near." (Hebrews 10:24-25).
Here are a few details about our gatherings.
We have a blended service of Praise and Worship songs and hymns.
Service will be 60 minutes.
We have hymnals and bulletins available for anyone who would like to pick one up.
Nursery during the Worship services
Coffee fellowship in between services
Wrapped Communion wafers and juice are available on Communion Sunday
It is good to worship together. We need one another. We look forward to seeing you!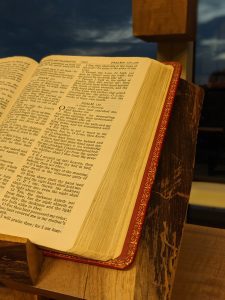 About Grace Free Lutheran Church
At Grace Free Lutheran Church, we worship the Triune God, Father, Son, and Holy Spirit. We believe that the Bible is the inspired and inerrant Word of God, through which God continues to speak to his people. We believe salvation is found in Jesus Christ alone.
We are a vibrant community of believers dedicated to Biblical truth and living it out in our lives. We are also members of the Association of Free Lutheran Churches (AFLC).
"We proclaim [Him], warning everyone and teaching everyone with all wisdom, that we may present everyone mature in Christ. For this I toil, struggling with all his energy that he powerfully works within me." (Colossians 1:28-29)
Our Ministries
Our mission of the church is to proclaim Jesus that all may follow Him. We live this out through the various ministry in-reaches of the church to the men, women, children, youth, and also out-reaching through home and world missions.
Sign up for our newsletter today.
We send out a monthly newsletter with a message from the Pastor, events, and opportunities for service to the church.