Welcome to the Gals of Grace Women's Ministry
Our women's ministry vision statement is: To foster a community where women of all ages have the opportunity to seek to be transformed through Christ, united in His love and in joyful service
Whether you are new to our church, a regular attender, or a member, we would love for you to join our sisters in Christ as we gather in small group book studies, meet one-on-one in mentoring relationships or enjoy an event together. To be kept informed on these opportunities, sign up for our Gals of Grace newsletter and Facebook page by contacting Mary Jo Dyrud (763-463-2300 or mdyrud@gracefreelutheran.org.) If you have questions contact Elizabeth Jore, Chairman of Women's Ministry (651-246-4874 or joreelizabeth@gmail.com.)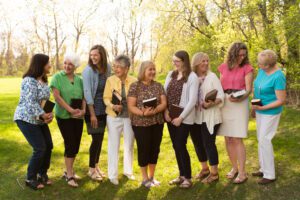 Women of Redemption (WMF)
By Tami Demo and Michele Mobley
Description: In our Bible study we discuss one lesson,
pray for our missionaries and share a dessert.
Bible study: $13, copies in the office
Monthly: 2nd Tuesday at 6:30
Where: Various homes
Coming in January: Philippians by Angie Lombardo
For more information contact:
Marilee Johnson
(612.384.6933 Marilee.5677@gmail.com).
Learn more about Women's Missionary Federation (WMF) on the AFLC website https://www.aflc.org/women/
WMF Fall Rally: Saturday, September 23, Living Word, Eagan. To sign up contact: minneapoliswmf@gmail.com
Psalms Bible Study
Description: We talk through one Psalm, share from a Christian worldview and enjoy fellowship.
Weekly: Thursday from 8-9:15 am
Where: Original Pancake House, Maple Grove
For more information contact:
Cheryl Tungseth
(612.418.3497 c_tungseth@msn.com).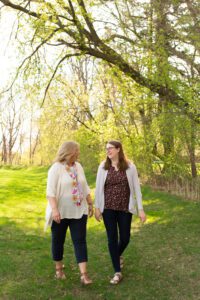 Spiritual Mentoring: Connecting Women to Women
"Older women similarly are to be reverent in their behavior, not malicious gossips nor addicted to much wine, teaching what is right and good, so that they may encourage the young women to tenderly love their husbands and their children, to be sensible, pure, makers of a home where God is honored, good natured, being subject to their own husbands, so that the Word of God will not be dishonored." Titus 2:3-5.
Following the directive of Titus 2, we desire to provide an opportunity for older and younger women to connect with one another for the purpose of growing in their faith and living for God's glory.
Mentoring Groups
The intention of these small groups is to build relationships with women in different seasons of life, college age and up.
Seeking Him
By Nancy DeMoss Wolgemuth and Tim Grissom
Description: "Revival isn't just an emotional experience. It's a complete transformation. It can happen in your heart, in your home, in your church and in your world. It all begins with seeking Him!"
Book: $12, copies in the church office
Twice a month: October through April, 1st and 3rd weeks, online or in person options
Days/Times:
Monday evening – 7:00-8:30 (a home)
Tuesday morning – 9:30-11:00 (a home)
Tuesday evening – 6:30-8:00 (online)
Sunday – 9:00-10:00 (weekly, following the Sunday school schedule)
If you are interested in signing up (RSVP by Sept. 22nd) contact Elizabeth Jore, (651.246.4874 or joreelizabeth@gmail.com).
One-on-One Mentoring
Our approach to mentoring is not a program but rather a lifestyle. This could include spontaneous mentoring moments, intentional one-one-one mentoring and/or asking to be matched with another woman.
If you desire is to be mentored we encourage you to:
Pray

Interact with older women at church or in small groups.

If the Lord brings someone to mind, ask her.

If you have questions or desire to be matched, contact Elizabeth Jore.
Heart and Home Gathering
Description: Older and younger women connecting through faith, fellowship and homemaking tips. Join the fun!
When: February (Saturday morning)
Where: Various homes
If you have any questions you can contact Karen Westlake, (763.439.7774 or klwestlake7@yahoo.com).
REJOICE WITH THE GRINA'S…….
Provide a meal for the Grina's through Meal train for Tanner and McKensie Grina, as they are expecting their 1st child. mealtrain.com
Thank you!