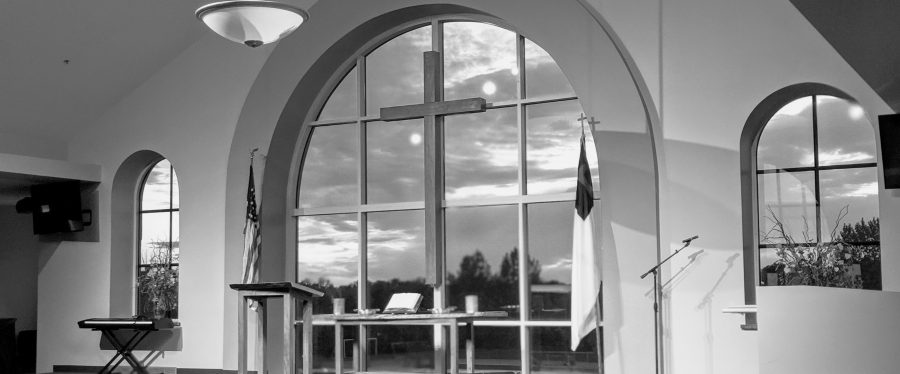 Worship Services
Join us for our weekly worship services on Sunday mornings.
9:00 & 10:30 AM
Sunday School
During the school year for children and adults.
9:00 AM
Advent Services
December 1, 8, 15, 6:30 p.m.
Coffee Social
Fellowship with other members in atrium between services.
10:00 AM
Worship
Our Sunday morning worship blends modern praise music and traditional hymns. The service focuses on use of biblical texts for our call to worship, confession of sin, and benediction.
The Lord's Supper is celebrated on the first Sunday of the month. There are Gluten Free Communion Wafers available for anyone who is gluten free. The wafers are darker and larger than the standard wafer.
Nursery
The church nursery is located in the Library upstairs. Nursery is set up during both services and monitored by weekly volunteers. This amenity is for newborns and children up to 4 years old.
Contact Holly Westlake for more information or volunteer. (763) 222-7916
Online Services
Check out our new webpage for Online Services.
Sermon Podcasts
Sermons are available to listen to online or one of the podcast streaming services below.
Sermon Studio Website
Video Recordings
Our sermons are also available on our Vimeo or Youtube channels!
Past Recorded Services
Our Worship Services are recorded each Sunday. Grace Worship Hour Broadcast NW Community TV Channel 20 (Comcast) and 8201 and 8701 (Century Link) Sun. 6:00 p.m. and Mon. 2 a.m. & 10 a.m.
DVD's of services are available upon request.
You can also watch previous worship services at ccxmedia.org. Search "The Worship Hour" under THE PROGRAM GUIDE.